The Nonprofit Gazette
Edition 004
January 2002
Miss World - Agbani Darego, from Nigeria
The Miss World contest was founded in 1951 by flamboyant British entrepreneur Eric Morley, who died last year just weeks before the 50th anniversary celebration of the event.
There have only been three winners from Africa in more than half a century and two of them were white South Africans, in 1958 and 1974. The third, in 1954, was from Arab Egypt.
Miss World had until now been dominated by winners from Europe, the Americas and India and the majority have been white. Miss Nigeria had promoted herself as wanting to be a computer scientist as well as a super model. The beauty gala was celebrated in Sun City, a luxury resort of casinos and wild animals known as South. The contest has in the past beencondemned as a cattle market replete with gorgeous air-head that is demeaning to women and still carries the blonde bimbo stigma. The event goes on undaunted and the Number of contestants is still growing with entries from China and Malawi for the first time in South Africa. Modernizing the event, the organizers gave viewers the chance to phone in their votes and even email questions to the hopefuls. 93 contestants vied for
the crown.
The "Nigerians In Diaspora Organization Inc." (NIDO) are to meet President Olusegun Obasanjo September 22, 2001 in Washington DC. "NIDO" members comprises of leaders of Nigerian professional and business organizations in the US and CANADA. The tittle of the meeting is - " Utilization of Indigenous Resources". For mor info, click on the nido link below.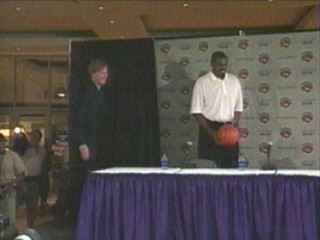 Hakeem Olajuwon at Air Canada Center in Toronto
The Nigerian born Hakeem Olajuwon on Wednesday, August 02, 2001 signed a three year contract worth millions dollars to join the Toronto Raptors. For three season starting from 2001/2002 season, Hakeem will join the group of Vince Carter, Antonia Davis, Alvin Williams, Keon Clark, Jerome Willams(the dog), Chris Childs and many other players to entertain Torontonians and all the NBA fans.

Table of Contents
23 Billion Naira '419' Swindle

Hakeem Olajuwon now a Raptor

Nigerians in Diaspora Meet Obasanjo



ORGANIZATION NEWS:

The just concluded 1st ever Esan Akugbe Association picnic August 25th 2001 was a success. It was a joint effort. Thanks to all members and big thanks to non members who came to grace the occasion with us. The children were all playful and happy and THAT'S THE MAIN OBJECTIVE. Until next year again. God bless you all.
ESSAC MEMBERS ANNOUNCEMENT:

1) APPRENTICESHIP

Any member(s) who is interested or know any person who will be or is interested in apprenticeship in the auto mechanic industry should contact the president ( Richard Irehovbude) to discuss it.


JOB FOR YOU
Click on the link below for a job.